Get to know your coach About Jason Reddington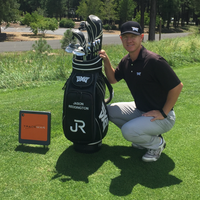 Born in Evansville, Indiana, Jason first discovered his love for the game of golf at the age of 14. While earning a Psychology degree, he used his passion for the game to earn a Division 1 scholarship at The University of Evansville where he became an All Missouri Valley Conference player and an All Academic Conference nominee.

Currently, Jason, PGA, is the Director of Instruction at Forest Highlands in Flagstaff, AZ for the summer season. Formerly the Head Teaching Professional for The McCord Golf Academy in Orlando, FL during the winter months and a Director of Instruction in Ohio during the summer months where he was named the Northern Ohio PGA Section Teacher of the Year in 2013. Jason now spends the entire year in Arizona bridging his summer season in Flagstaff with a Director of Instruction role at Mirabel in North Scottsdale for the winter season. Jason was recently voted Best Instructor in the Valley by Arizona Foothills Magazine.

Jason Reddington is also a member of the Proponent Group, a community of accomplished teaching professionals from around the globe. The member network includes more than half of the GOLF Magazine Top 100 Teachers, more than 150 PGA section Teachers of the Year, more than a dozen PGA National Teachers of the Year and the owners and operators of over 50 golf academies.